Breaking the Waves is an awful, deeply disturbing film by Lars von Trier. It is the only film that has had me crying hysterically for the final half hour and I still can't lay eyes on Emily Watson without feeling uncomfortable. That said, it (obviously) made an indelible impression on me and this shawl does remind me of moonlight on deep water and I think that sometimes it's good to reclaim things.
The Vital Statistics

Pattern:
Daybreak
by Stephen West (also available to purchase through
Ravelry
). I had noticed this pattern getting a bit of attention online but it didn't grab me until my lovely friend Lyn was knitting it. She explained to me about the striping and bells immediately went off in my head about yarns that I had in the cupboard that I could use for this shawl. In keeping with my desire to use what I have I was moved to cast on for it. I would now have trouble expressing how much I love this pattern, what a wonderful pattern it is, how much room there is to experiment with it. Basically it is a solid triangle of colour A, commence striping with colour B, then knit this border in solid colour B. But oh, it is so much more than that! Even following this basic formula, you can get fantastic results by using self-striping and variegated yarns. Add in some more yarns, some texture, some eyelets or even lace ... add to that, I really like the shape and construction - I feel as though I could knit this pattern forever.
Size:
Large - span 170cm x depth 60cm.

Yarn:
Rather than use two yarns and follow the A, A/B, B scenario, I actually used five different yarns - Noro Kureyon Sock, Misti Alpaca Hand Paint Sock Yarn, Heirloom Baby Wool 4ply, Naturally haven 4ply and Patonyle sock yarn.
Specifically:
Noro Kureyon Sock, 70 per cent wool, 30 per cent nylon, shade S233, 0.5 skeins - I think I was supposed to knit my mother a pair of socks from this, oops. I had heard that this yarn was difficult to knit with, that the stitches didn't pull through easily and I think that is what put me off. It may be more difficult to knit at a sock-worthy gauge but I loved knitting on it for this shawl. Loved the texture, loved the colour changes, even loved the odd too thick or too thin section. I have already bought another skein with a project in mind.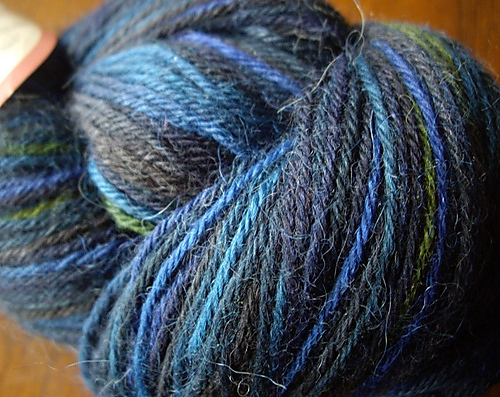 Misti Alpaca Hand Paint Sock Yarn, 50 per cent alpaca, 30 per cent merino, 10 per cent nylon, 10 per cent silk, shade 01 'Blues in the Night', 0.7 skeins - I received this in a stash swap and was attracted to the depth that the colours created. I love the soft fuzziness of this yarn. Unlike the Noro it is an absolutely consistent weight. It is not very highly spun.
Heirloom Baby Wool 4ply, 100 per cent wool, shade 407, 0.6 skeins - yarn hauled across the Pacific, tightly plied, very smooth. Needed to be used.
Naturally Haven 4ply, 100 per cent merino, shade 455, one skein - ditto.
Patonyle, 80 per cent merino, 20 per cent nylon, shade 1009 - the classic Australian sock yarn, a gift last year when we were there from my friend Jane. Also tightly plied and very smooth.
Needles:
3.55mm Addi circular.
Stash/recycle content:
it all came out of stash - hooray!
Start to finish:
Well, you can tell that this was a special knit by the fact that it took me only 11 days - 18 July to 29 July 2010 - and I knit on it solidly for that time, nothing else, which is entirely out of character.


Comments:
Having read other people's comments about the pattern, I did make some technical modifications: worked an eyelet on the border instead of a M1 increase (it is still important though to keep those first and last two stitches really loose) and used a
stretchy cast off
method. I also worked the slip stitch column one row further (that is, into the first row of the border). I can also imagine doing an eyelet for all of the increases to create an airier version.
Then in addition to this, I had my own vision of how to do the colours and stripes. I worked the initial solid section and the border in the Misti Alpaca. The stripes are the rustic, softly plied, self-striping Noro Kureyon Sock contrasted initially with the smooth, shiny Naturally Haven 4ply in a navy blue until that ran out and then with the Heirloom Baby Wool 4ply in a dark blue. In between the change from one blue to the next is the red Patonyle stripe. When I looked at other people's finished shawls the ones that I liked most were those where the changes in the yarn colour appeared to segment the shawl laterally (or at least, along the length of the stripes) so that was what I was aiming for.
The Noro worked wonderfully with its long and felicitous colour changes - the intrigue of which shade would come next and when was certainly one of the things that kept me knitting. I also had to grit my teeth at a couple of points and stay loyal to the Noro colour vision, that is, not cheat and muck around with any of the colour changes or progressions. That was until I came to a blasted knot joining some dark green with lavender. Then I did join it in with the dark green that came just before the light green.
And the red, that just came out of nowhere but I felt that it was necessary to help define the architecture of the shawl. From the very beginning the yarns that I chose had reminded me of the sea and deep water. I blocked the edge irregularly, it reminds me of seaweed.
Confidence in my creative choices is something that has been building for me slowly over a very long while. I would always be so irked when some designer talked about 'playing with colour' - how could they be 'playing' if it turned out so well? My only memories of playing with colour were mixing paints at kindergarten, hoping that something amazing would appear and ending up with brown. Anyway, I do feel as though I took a chance and played with colour and texture in this shawl and it worked.
Verdict:
This shawl was such a joy to knit. It starts out deceptively with only a dozen or so stitches and by the time you're doing the stripes they are so fascinating that you don't notice the stitch count adding up to the hundreds. Add to that the pleasure of tracking the colour progressions in the yarn and suddenly, when the stitch count is almost unbearable, you're at the border. Which made it the hardest bit for me because you do keep knitting and increasing but in a solid block of colour. I was tempted to put in a row of eyelets to remind me of bubbles but didn't want to overdo it. I can see though why some people have switched to a lace stitch on the border - you do almost need it to get you through!
I really felt quite bereft though the night this was blocking because I could no longer knit it. In fact, I love this pattern so much and want to encourage both the designer and potential knitters thereof that I'm doing a giveaway. Please leave a comment by midnight Sunday my time (which is currently
PDT
) and I will randomly select three readers and purchase the pattern for them (not send them a copy of my pattern but purchase the pattern anew three times over).